Maggie Gee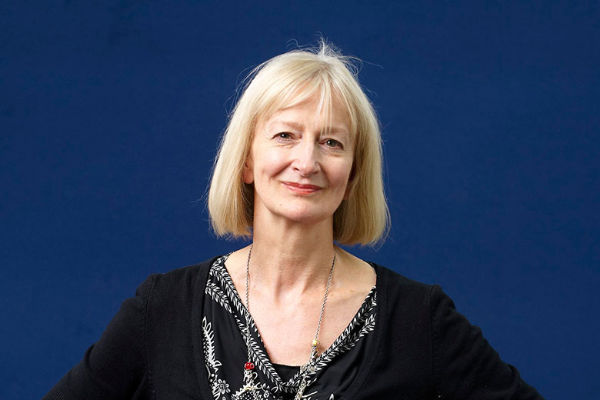 »In wealthier areas, life went on as normal«
Maggie Gee was born in Poole, UK and grew up in the Midlands and Sussex. She has just finished her sixteenth book, The Red Children, in which Neanderthals, the climate change refugees of 35,000 years ago, appear in the present, now fleeing global warming, on the south coast of the UK. Like her other novels, its themes include migration, racism, declining fertility rates and the relationship between human and non-human animals, and it uses recent scientific research. Maggie Gee has a PhD in English Literature and is Professor of Creative Writing at Bath Spa University. She has been shortlisted for global prizes including the Orange (Women's) Prize for Fiction and the International Dublin IMPAC Prize for Fiction. In 2012 she was awarded an OBE for services to literature and there was an international conference about her work at St Andrew's University.
»The problems with fertility had started to get worse. The screens were full of alarming statistics. They didn't mean all that much to the young who were too busy having fun to think having children mattered, but our parents discussed it in solemn voices. They wanted grandchildren. They wanted a future. I knew, in any case, with that complete confidence that young people have, then never again, that these reports weren't about me. [...]. When civil order broke down, over the next few years, I stayed optimistic. Who needed governments? If you were young, you were selfreliant. The plagues passed me by, though I lost several friends. The streets grew rougher, but I stayed away from trouble. In wealthier areas, life went on as normal, I didn't let the newscasts upset me.«
Maggie Gee's books can be roughly divided between realist satires on contemporary life in post-imperial Britain and Uganda (analysed in the Bloomsbury Academic book Maggie Gee: Writing the Condition-of-England Novel, by Mine Ozyurt Kilic, 2014) and future fictions with a global backdrop, several of which, especially from "Where Are The Snows" (1990) onwards, focused on climate change, extensively discussed in a collection of essays on her work, Maggie Gee: "Critical Essays" (Gylphi, 2015) ed. Sarah Dillon and Caroline Edwards. Despite their serious themes, the novels are full of humour, and defend the value of love in its broadest sense. "The Ice People" (2008 revised edition, Telegram Books), was described by the Observer as "one of the first great novels of the post-climate change era." A dystopia narrated by a biracial man, it is set in a new ice age in 2050: the ice forces people from the rich north to try to migrate south, where they are, unsurprisingly, not welcome. Like her novels "The Flood" (2004), "My Driver" (2012) and "The Red Children", "The Ice People" shows how climate change sharpens existing social divides.