Naomi Booth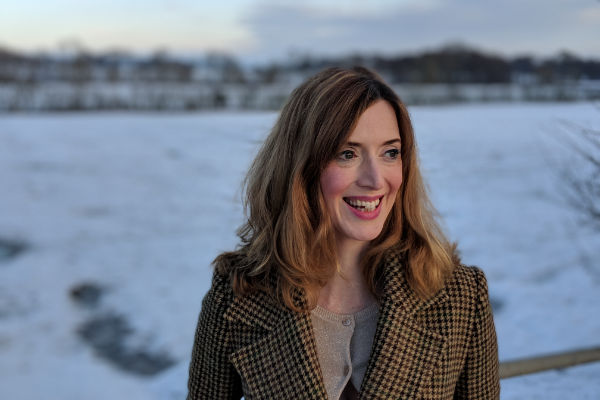 »Add to that list: people's skin was going crazy in our toxic environment«
Naomi Booth was born and grew up in Yorkshire in the UK. She is a writer and lecturer in Creative Writing at Durham University, having previously been appointed at the York Centre of Writing and the University of Sussex. Her writing often focuses on the interaction between bodies and landscapes, environmental contamination and eco-horror. Her first novel, "Sealed", is also an examination of pregnancy and environmental anxiety. Her short fiction has won a Saboteur Award and been longlisted for the Sunday Times EFG Short Story Award. Her most recent novel, "Exit Management", is partly an exploration of repressed anxieties about plastics.
»For most people, it became just one more thing among many to briefly worry about and then forget: the fires were getting worse and worse, the heat events more frequent, the rural-poor, indigenous folk and migrants were being carted into camps every time it got too hot, there were Biblical floods on the other side of the world, or food was carcinogenic our plastics were carcinogenic, the smogs were carcinogenic. Sometimes ash would float down through the haze, right in the middle of the city, blown in from hundreds of miles away. Add to that list: people's skin was going crazy in our toxic environment.«
"Sealed" centres on a heavily pregnant woman living in Australia at a time of an epidemic called 'cutis' that causes skin to grow over the victims' orifices, ultimately killing them. Although this is a result of a manmade 'toxic environment', her main subject is social inequality triggered by ecological disaster, such as 'heat events', air pollution and fires. Alice works for the state-run Housing Department which is trying to cover up what appears to be an ethnic cleansing of indigenous people, refugees stranded in life-raft-prisons labelled 'illegal maritime migrants' and other poor non-whites. She becomes obsessed with researching the origins of cutis and comes to the conclusion that many more have died of it than official figures suggest, especially those housed in refugee camps. The atmosphere of horror that pervades the book is heightened by the lack of reliable sources of information (state, press) and other protagonists trying to ignore or cover up the problem. Naomi Booth's "Sealed" adds to the increasingly long list series of cli fi dystopias set in Australia. Notable novels include George Turner (The Sea and Summer, 1987), Steven Amsterdam (Things We Didn't See Coming, 2010), Alexis Wright (The Swan Book, 2013) and, most recently, Briohny Doyle (The Island Will Sink, 2016).