Sina Kamala
Kaufmann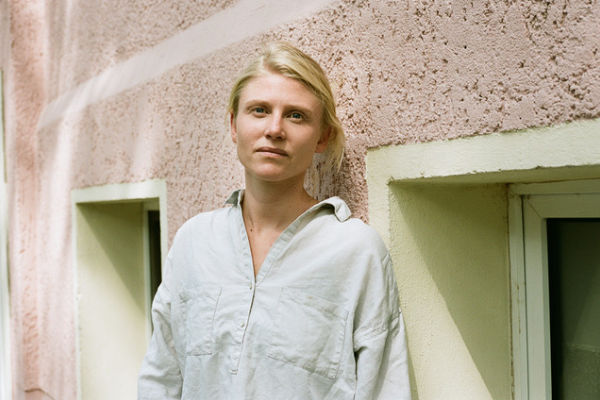 »Kaufmann says she prefers to refer to mood, rather than climate.«
Sina Kamala Kaufmann is a writer and an activist living in Berlin. She has worked in the gaming industry for a number of years and, in 2019, together with M. Timmermann and A. Botzki, she published a German translation of the "Extinction Rebellion Handbook" with S. Fischer Verlag. Also in 2019, she published a volume of stories titled "Helle Materie" (Bright Matter) with Berlin-based publisher mikrotext. She describes the stories as "near-fantastic tales" and the Berlin Tagesspiegel calls them "disturbingly clairvoyant"; this particular sense of discomfort fits in well with the themes of the Climate Fiction Festival.
»Klaus authorised the abolition of mirrors in the toilets of parliament and all ministries. The money saved on cleaning them was donated to women's shelters in a symbolic gesture, seeing as another 18,000 places were needed across the country. So many women were suffering violence, needed help and were not being given any? He wondered how the Minister of the Interior and the Federal Minister of Family Affairs could sleep at night and made it his job to make sure they didn't. Instead of seeing their mirror images, MPs and Equal Opportunities Officers would be shown the current totals of places needed. He would stop short of using pictures of mutilated women's bodies. But soon other figures were added – the average number of pupils per class, the number of homeless people, the number of drug addicts, the number of extinct insects, the square metres of sealed compared to non-sealed soil surface, the number of illiterates, the gross national product, the average income. Later there was an online poll to vote for the ten most scandalous statistics that MPs and civil servants should be faced with, constantly and up-to-the-minute. Data for everyone! Slowly but surely, the Federal Fool set up what was initially an illegal parallel democracy in precisely the same spot where the mirrors had hung.«
"For me, "Helle Materie" is more like 'social science fiction', a term I may have just made up. The term plays on the fact that we lend similar credibility to social sciences, or even psychology, as we do to natural sciences. In my opinion, this is one of the fundamental issues of our discourse, or rather of our general beliefs. The assumption that we can measure society and the individual. I certainly did not want to support this world view any further." (Sina Kamala Kaufmann in an interview with Sebastian Lessel in SPEX, 15 August 2019)
Statement for the autonomy of thought: "A term I may have just made up". Kaufmann says she prefers to refer to mood, rather than climate. If you follow this logic, instead of "climate crisis" and "climate catastrophe", "mood crisis" and "mood catastrophe" are the prevalent topics, and "mood change", a term that carries weight, also appears. This, of course, embodies the political utopia that Extinction Rebellion strives for – a fundamental change in the hostile way in which our economy is run. A conversation about literature and rebellion.